Overcoming the Challenges of Recruitment and Retention of Quality Teachers in Private Colleges of Pakistan
Abstract
Private Colleges face enormous challenges to hire and retain quality teachers for the better students' learning outcomes. To overcome, such challenges various strategies are employed by the college management. Current study is an effort to investigate the strategies adopted by the college management in the recruitment and retention of quality teachers.  The context of the study was two Private Colleges of Karachi, Pakistan. Research design employed to carry out this study was Sequential mixed method exploratory case study. Two Semi-structured interviews were conducted of the selected college principals. Survey questionnaires were administered to the college teachers. Qualitative data was analyzed through content analysis and quantitative data was analyzed through an online web application. 
The strategies adopted for the recruitment were vacancy announcement in the newspapers and the usage of personal contacts. For quality teachers' retention support system provision, professional development opportunities, provision of benefits and facility were found effective strategies employed by the college management.
References
Bazeley, P. (2009). Integrating data analyses in mixed methods research [Editorial]. Journal of Mixed Methods Research , 3(3), 203–207.
Bryman, A. (2004). Sampling. In Social research methods (pp. 83-107). Oxford: Oxford University Press.
Creswell, J. W. (2003). Understanding Mixed Method Research. In Research design: Qualitative, quantitative approaches, and mixed methods approaches (2nd ed., pp. 1- 19).
Farooq, M., Abbasi, J. M., Pitafi, A. I., & Shah, S. Z. (2013). TO STUDY THE PRIORITIES OF PRIVATE EDUCATIONAL INSTITUTIONS TOWARDS RECRUITMENT, RETENTION AND REWARD OF THEIR TEACHERS. International Researcher, 2(1), 197-213.
Fraenkel, J. R., Wallen, N. E., & Hyun, H. H. (2012). Sampling. In How to design and evaluate research in education (8th ed., pp. 90-109). New York, America: McGraw Hill.
Iqbal, A., & Akhtar, S. (n.d.). Job Satisfaction of Secondary oTeacher. Abasyn Journal of Social Science, 5(1), 49-65.
Joyce, B. R., & Showers, B. (2002). Student achievement through staff development (3rd ed.). St. Louis, MO: ASCD.
Khan, M., & Aziz, S. A. (2013). Teachers' Turnover of Private Secondary Scools of Karachi (Pakistan). IOSR Journal of Humanities And Social Science (IOSR-JHSS), 14(5), 58-60.
Martens DM (2003). Mixed methods and the politics of human research: The transformative emancipator perspective. In A. Tashakkori and C. Teddlie (Eds.), Handbook of mixed methods research. Thousand Oaks, CA: sage, pp. 135-164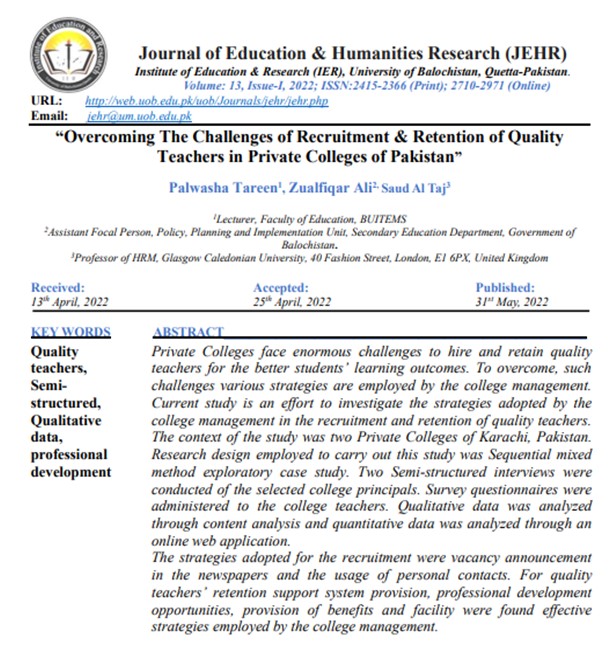 Downloads
How to Cite
Tareen, P. ., Ali, Z. ., & Al Taj, S. (2022). Overcoming the Challenges of Recruitment and Retention of Quality Teachers in Private Colleges of Pakistan. JEHR Journal of Education And Humanities Research, University of Balochistan, 13(1), 97–105. Retrieved from http://journal.uob.edu.pk/journal/index.php/jehr/article/view/290
License