Heads' Leadership Style and Performance Appraisal Matter to Enhance the Job Satisfaction of Secondary School Teachers
Keywords:
Head' Leadership Style; Performance Appraisal; Job Satisfaction; Secondary School Teachers
Abstract
Secondary school education has main contribution for the socio-economic development of the countries. The major objective of this study was to determine the impact of heads' leadership styles and performance appraisal on job satisfaction. The study was based on quantitative and cross-sectional research design. For the delimitation of the population 427 public secondary school teachers were administered as sample of this research from Lahore while simple random sampling technique was used. Research data was collected from standardized questionnaire through survey method. SPSS software was computed to analyze the proposed research questions in this study. The results of this research revealed that there was a positive and significant relationship of heads' leadership styles and performance appraisal with job satisfaction. Moreover, leadership styles have more significant effect as compare performance appraisal towards job satisfaction. Significantly, this research has advantage for the adaptation of innovative approaches for the enhancement of job satisfaction of teachers.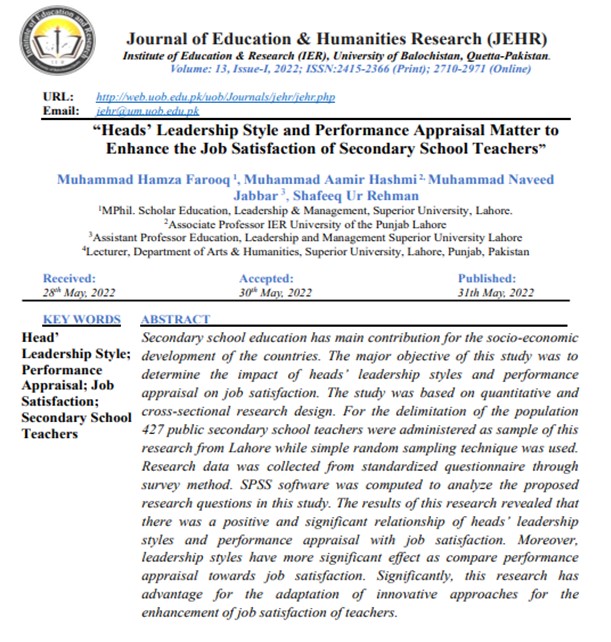 Downloads
How to Cite
Farooq, M. H. ., Hashmi, M. A. ., Jabbar, M. N., & Ur Rehman, S. . (2022). Heads' Leadership Style and Performance Appraisal Matter to Enhance the Job Satisfaction of Secondary School Teachers. JEHR Journal of Education And Humanities Research, University of Balochistan, 13(1), 145–153. Retrieved from http://journal.uob.edu.pk/journal/index.php/jehr/article/view/332
License