Digitalization of Education in Nigerian Secondary Schools: Benefits & Challenges
Abstract
Digitalisation of education is a concept adopted to ensure the innovative incorporation of modern technology and digital tools to assist the progress of teaching and learning, and to create more rooms for remote learning. In attempt to unveil its benefits and challenges, this paper examined the digitalisation of education in Nigerian secondary schools. In this paper, the concepts of education and secondary education as embedded, digitalisation and digitalisation of education were examined. Looking at the empowerment brought by digital education system through its benefits and/or advantages, the paper x-rayed the importance and challenges facing digitalisation of education in Nigerian secondary schools which could hindered Nigerian students to be more innovative globally. This paper made recommendations among which are that, schools should implement blended and remote learning to allow students learn both online and offline on their own, and teachers, parents and school Guidance and counselors should be more vigilant in monitoring the students when they have access to computers or internet to avoid going to pornographic sites or other sites that may be harmful to their learning. Government should also collaborate with internet, digital, and telecommunications service providers to ensure that ICT infrastructure, such as internet broad bands and network devices, is available and in good working order to support the digitalisation of teaching and learning at all levels and not only at secondary school level.
Key words: Digitalisation, Digitalisation of Education, Nigerian Secondary Schools
References
Abdullahi, N. J. K. & Tijani, A. A. (2019). Digitalization in Education system and management of early childhood care education in Nigeria. Southeast Asia Early Childhood Journal. 8(2), 28-42.
Ajayi, S. (2020). Digital education system and its advantages. The Asian School "Asian Acres", Vasat Vihar, Indira Negar, Dehradun
Bejinaru, R. (2019). Impact of Digitalization on education in the knowledge economy. Management Dynamics in the Knowledge Economy, 7(3), 367-380.
Bijeesh, N.A. (2017). Advantages and Disadvantages of Distance Learning. Available online: http://www.indiaeducation.net/online-education/articles/advantages-and-disadvantages-of distancelearning.html(accessed on 7 May 2022).
Borisenkov, V., Gukalenko, O., & Pustovoitov, V. (2021). Digitalization of education: trends in teacher training. In E3S Web of Conferences (Vol. 273, p. 12075). EDP Sciences.
Brown, C. (2017). Advantages and Disadvantages of Distance Learning. Available online: https://www.eztalks.com/elearning/advantages-and-disadvantages-of-distance-learning.html (accessed on 7 May 2022).
Daniel, J. (2020). Education and the COVID-19 pandemic. Prospects, 49(1), 91-96.
Falasteen, N. (2018). The implementation of Digitalization system in education in Palestine. International Journal of Infonomics. 11; 1749-1754.
Federal Republic of Nigeria (2013). National Policy on Education 6th Edition. Lagos: NERDC Press.
Gillpatrick, T. (2020). Innovation and the digital transformation of education. Sınırsız Eğitim ve Araştırma Dergisi, 5(3), 194-201.
Imogie, A. I. (2002). Improving teaching and learning: An introduction to instructional technology, Benin: Joe Seg.
Jain International Residential School (2021a). Introduction to Digital Education and its Benefits for Students https://Digital Education and its Benefits for Students (jirs.ac.in)
Jain International Residential School (2021b). The Emergence of Digitalization in Education Bangalore-kanakapura main road Ramanagara district Karnataka, India. jirs.ac.in/blogs/
Lawal, R. O., Akinyemi, I. A. & Gbenu, J. P. (2021). Quality assurance practices: Veritable tools for goal achievement in tertiary educational institutions in Nigeria. African Journal of Educational Management, 22(1); 235-253.
Machekhina, O. N. (2017). Digitalization of education as a trend of its modernization and reforming. Revista Espacios, 38(40).
Mohammed, M.O.B, (2020), Managing large online classes. A virtual lecture on: learning issue in education and COVID-19 pandemic. Faculty of Education seminar, Lagos State University, 30th of June, 2020.
Nagrale, P. (2013). Advantages and disadvantages of distance education. Accessed on 7 May 2022 from https://surejob.in/advantages-anddisadvantages-of-distance-education.html.
Nwana, S. (2012). Challenges in the application of E-learning by secondary school Teachers in Anambra State, Nigeria. African journals of Teacher Education. 2(1).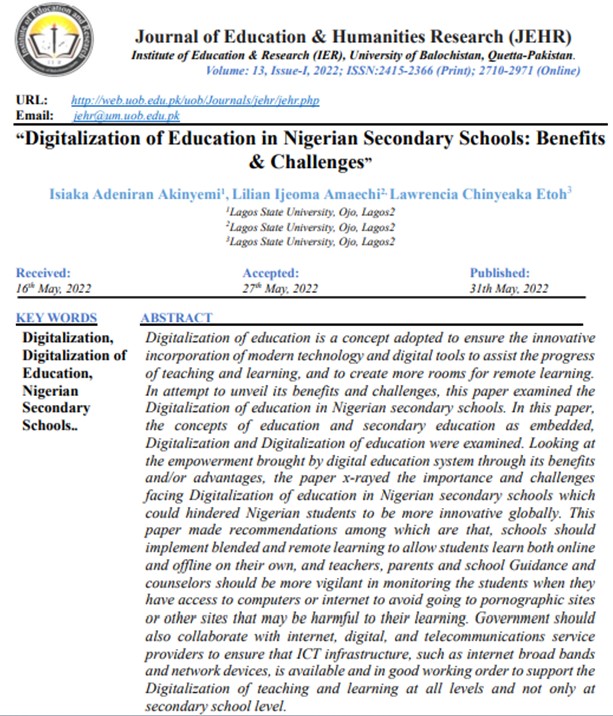 Downloads
How to Cite
Akinyemi, I. A., Amaechi, L. I., & Etoh, L. C. (2022). Digitalization of Education in Nigerian Secondary Schools: Benefits & Challenges. JEHR Journal of Education And Humanities Research, University of Balochistan, 13(1), 34–42. Retrieved from http://journal.uob.edu.pk/journal/index.php/jehr/article/view/324
License