Tourism Cooperation of BCIM Countries give Awareness about Education and good Lifestyle
Keywords:
BCIM-EC, Tourism, Cooperation, Spatial, Layout;
Abstract
With the deepening of economic cooperation between Bangladesh, China, India and Myanmar, the level of tourism cooperation in the region is gradually improving. In order to further build a regional tourism community in the post-epidemic era, it is necessary to make a global and holistic analysis of the spatial layout of tourism in the region. Combining the perspectives of geographical space, economic drive and social mobility, this paper puts forward that tourism resources, tourism industry, the development degree of tourist destinations and tourist sources are the four core elements that affect the spatial layout of regional tourism. Based on this, the overall spatial layout of tourism cooperation between Bangladesh, China, India and Myanmar is constructed from the micro and macro levels, namely, the micro layout with urban units as the core and the macro system with inter-city networks as the center. By 2020, the micro-layout of the four regions is as follows: the dispersed structure of Yunnan Province, China, centered on central Yunnan (Kunming-Yuxi), northwest Yunnan (Tengchong-Dali-Lijiang-Shangri-La) and south Yunnan (Jinghong-Mengla); The northeast of India has Kolkata as the main core, and Gaya in Bihar and Guwahati in Assam as the sub-core. Bangladesh's dual-core structure centered on the capital Dhaka and Chittagong; Myanmar's axis structure with "Yangon-Mandalay" as the core axis. The micro layout centered on urban unit provides the basic unit for the macro system at the regional level, which makes the tourism spatial layout of Bangladesh, China, India and Myanmar show the following characteristics: two mature tourism interactive networks, India-Bangladesh and China-Myanmar, are the central circle, and several secondary tourism interactive spaces, such as China, India, China, Bangladesh and India and Myanmar, are its organic components and important supplements. Finally, this paper also provides policy suggestions for optimizing the spatial layout of Bangladesh-China-India-Myanmar tourism cooperation from the perspectives of security governance, facilities upgrading and China-India cooperation.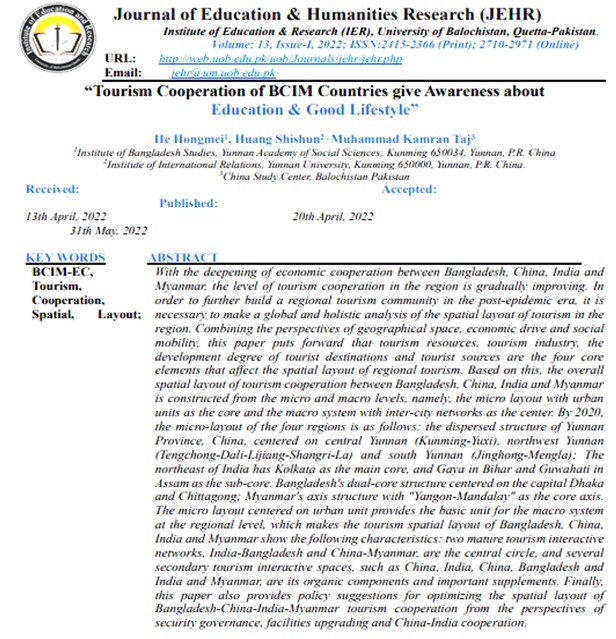 Downloads
How to Cite
Hongmei , H. ., Shishun, H., & Taj, K. (2022). Tourism Cooperation of BCIM Countries give Awareness about Education and good Lifestyle. JEHR Journal of Education And Humanities Research, University of Balochistan, 13(1), 15–33. Retrieved from http://journal.uob.edu.pk/journal/index.php/jehr/article/view/311
License