براہوئی نوشتئی روایت او اینو نا خواست آک
Written Tradition in Brahui Literature
Keywords:
Manuscripts, Trend, Enhance, Applied literature
Abstract
Writing is the only source to represent a language. Brahui manuscripts are not so old. It had been started from the Folk literature. Brahui literature had a vast literature but in the modern era the evolution and the development of a language depends upon the written literature, similarly the literature in the field of applied literature also enhance the value and importance of a language. This paper illustrates the scope and importance of written literature in context of Brahui language and literature and discuss the finding how can we enhance the written literature.
References
(1)۔ڈاکٹر عبدالرحمٰن براہوئی۔براہوئی زبان و ادب کی مختصر تاریخ ، مرکزی ادبی بورڈ لاہور۔1982ء
(2)۔گل خان نصیر۔ کوچ و بلوچ، سیلز اینڈ سروسز۔1998ء
(3)۔ڈاکٹر عبدالرحمٰن براہوئی۔ بلوچی ، براہوئی زبان و ادب، علاقہ اقبال اوپن یونیورسٹی ۔ 2004ء
(4)۔ایضاً
(5)۔خدادادگل ۔براہوئی ادب میں افسانے کا ارتقاء ، براہوئی ادبی سوسائٹی۔2008ء
(6)۔ڈاکٹر عبدالرحمٰن براہوئی ۔ بلوچی ، براہوئی زبان و ادب ،علامہ اقبال اوپن یونیورسٹی۔1982ء
(7)۔ڈاکٹر عبدالرحمٰن براہوئی۔ براہوئی زبان و ادب کی مختصر تاریخ ، مرکزی اردو بورڈ لاہور۔2004ء
(8)۔ایضاً
(9)۔عبدالقیوم بیدار۔براہوئی نسائی ادب، تحقیقی تنقیدی مطالعہ، براہوئی اکیڈمی کوئٹہ۔2014ء
(10)۔ڈاکٹر عبدالرزاق صابر۔ چار باغ، براہوئی ادبی سوسائٹی۔ 2002ء
(11)۔ایضاً
(12)۔ڈاکٹر عبدالرحمٰن براہوئی۔براہوئی زبان و ادب کی مختصر تاریخ، مرکزی اردو بورڈ لاہور۔1982ء
(13)۔خداداد گل ، براہوئی ادب میں افسانے کا ارتقاء، براہوئی ادبی سوسائٹی ۔2008ء
(14)۔ڈاکٹر عبدالرحمٰن براہوئی، براہوئی زبان و ادب کی مختصر تاریخ، مرکزی اردو بورڈ لاہور۔1982ء
(15)۔ایضاً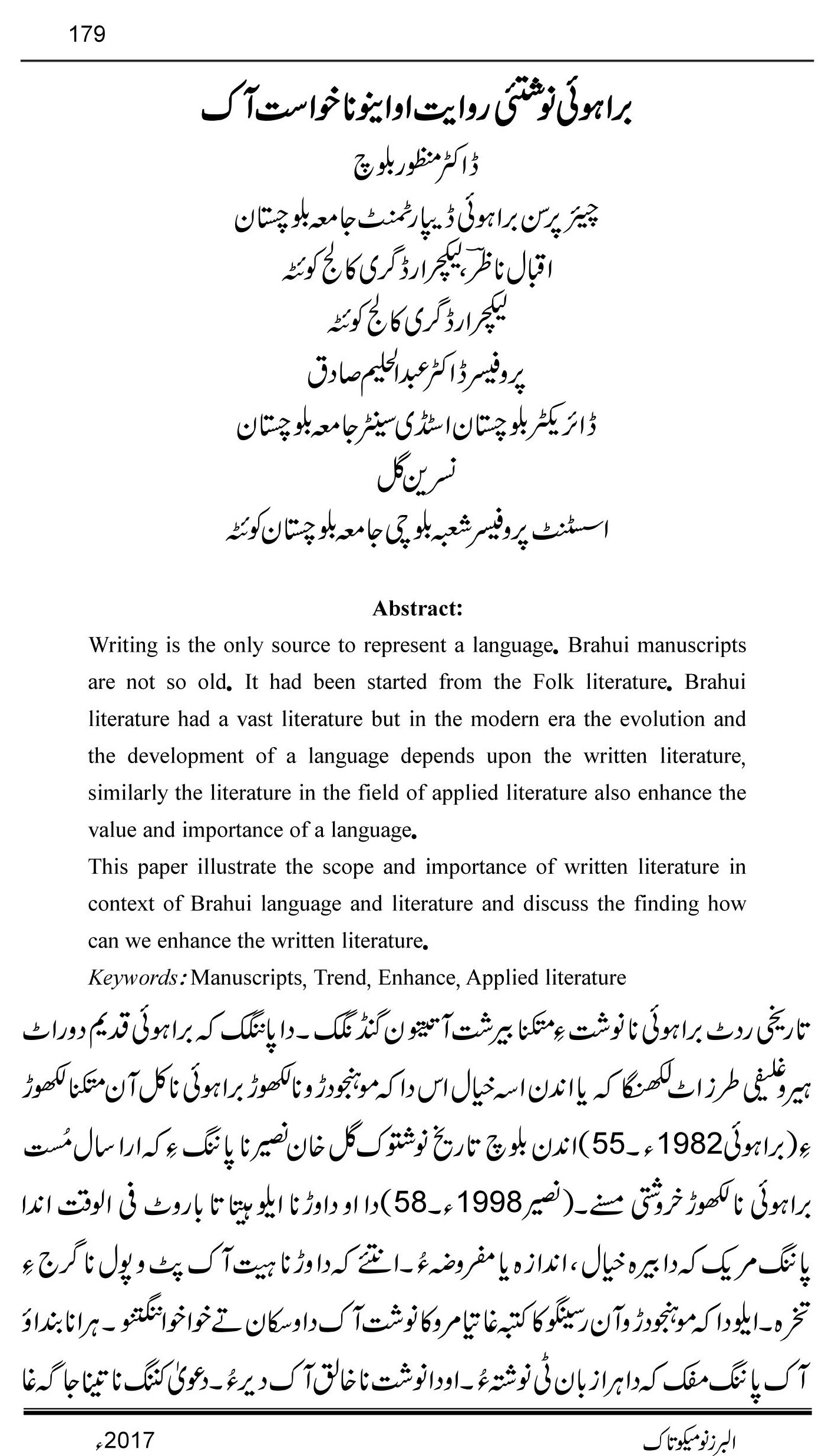 Downloads
How to Cite
Baloch, D. ., Iqbal Nazir, Dr. Abdul Haleem Sadiq, & Nasreen Gul. (2021). براہوئی نوشتئی روایت او اینو نا خواست آک: Written Tradition in Brahui Literature. Al-Burz, 9(1), 179–187. https://doi.org/10.54781/abz.v9i1.95
License
Copyright (c) 2017 Authors who publish with Al-Burz journal agree to the following terms: 1. Authors retain copyright and grant the journal right of first publication with the work simultaneously licensed under a Creative Commons Attribution (CC-BY) License that allows others to share the work with an acknowledgement of the work's authorship and initial publication in this journal. 2. Authors are able to enter into separate, additional contractual arrangements for the nonexclusive distribution of the journal's published version of the work (e.g., post it to an institutional repository or publish it in a book), with an acknowledgement of its initial publication in this journal.
This work is licensed under a Creative Commons Attribution-NonCommercial-ShareAlike 4.0 International License.
Alburz has licensed under a  CC Attribution-NonCommercial-ShareAlike 4.0