پیر محمد پیرل نا کتاب : پھل و پت: نا جاچ اس
An analysis of Peer Muhammad Peeral's Book "Pull o Pit".
Keywords:
Orient language, south aisia, Balochistan, Maktaba Durkhani, Brahui, Peeral Zuberani
Abstract
Brahui is considered one of the ancient Language of South Asia. There were several prominent poets in Brahui Language. One of them was Peer Muhammad Peeral Zuberani (Lehri), who was given the Title of Shair-e-Hatam. He introduced modern technics of poetry and brought new thoughts in the field of Brahui literature. The book "Pull o Pit" published by Brahui Academy and compiled by Dr. Ali Ahmed Shad in 2005. The book has 98 Poetries on which Peer Muhammad Zuberani wrote poetry. This piece of research analyze the book "Pull o Pit". The researcher Examined the poetry of this book where Peer Muhammad Peeral highlighted in his poetry entitled mother land, nation language, love, nomadic life, unity peace.
References
Bedar, Qayyom. (2017). "Brahui Ahwal-3" Brahui Adabi Society Pakistan Quetta.
Brahui, Zaoq. (2006). "Kamal" Brahui Academy Pakistan Quetta.
Murad, Afzal. (2011). "Nidara", Z.A Printers, Lahor.
Sani, Liaquat. (2009). "Brahui Puskuna Shairi" Higher Education Commission, Islambad.
Shad, A.Ahmed. (2005). "Pull o Pit" Brahui Academy Pakistan Quetta.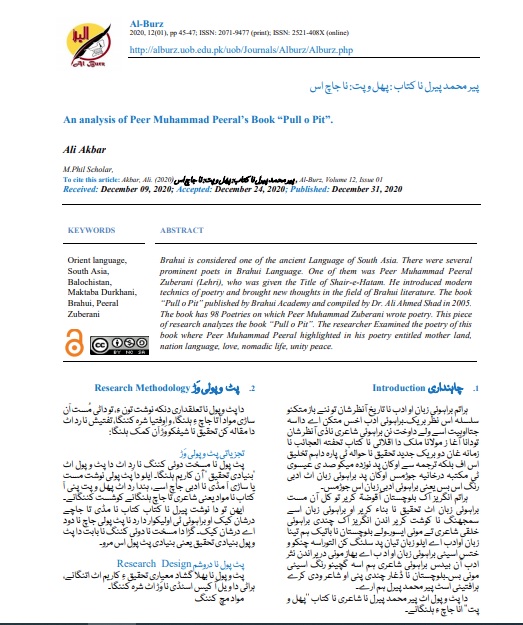 Downloads
How to Cite
Akbar, A. (2020). پیر محمد پیرل نا کتاب : پھل و پت: نا جاچ اس: An analysis of Peer Muhammad Peeral's Book "Pull o Pit". Al-Burz, 12(1), 45–47. Retrieved from http://journal.uob.edu.pk/journal/index.php/alburz/article/view/48
License
Alburz has licensed under a  CC Attribution-NonCommercial-ShareAlike 4.0