PERCEPTION OF FUTURE TEACHERS ABOUT MOTHER TONGUE EDUCATION IN BRAHUI LANGUAGE AT PRIMARY LEVEL
Keywords:
Brahui Mother tongue Future teachers Medium of instruction Balochistan
Abstract
Brahui language has its own uniqueness and value as it is one of the oldest languages of Pakistan and considered as a Dravidian language. The purpose of this study was to explore the perception of future Brahui speaking teachers about mother tongue education in Brahui language at primary level in Balochistan. In this study, a qualitative approach was used. The research design was case study and site of the study was Sardar Bahadur Khan Women's University Quetta. Semi-structure interviews were conducted from the Brahui speaking future teachers of B.Ed. (Hons.) 7th semester (5), M.A Education 3rd semester (5) and M.Phil. (5). The participants were selected through purposive sampling. Thematic analysis was used as method for data analysis. The data analysis revealed two main themes as need of Brahui mother tongue education in Brahui majority schools and teacher training for Brahui mother tongue education.
References
Ahmed, S. I. (2011). Issue of Medium of Instruction in Pakistan. Internaonal Journal of Social Sciences and Education, 1(1), 66–82. http://ijsse.com/sites/default/files/issues/2011/v1i1/p5/paper-5.pdf
Ball, J. (2010). Enhancing learning of children from diverse language backgrounds: Mother tongue-based bilingual or multilingual education in early childhood and early. http://eyeonkids.ca/docs/files/unesco_mother-tongue_based_ey_2010.pdf
Bano, N., & Sani, L. (2012). Creating new literary terminologies in Brahui language. Alburz, 4, 45–55.
Bashir, E. (2003). Brahui - Notes. South Asian Language Resource Center Workshop on Languages of Afghanistan and Neighboring Areas, December, 12–14. https://doi.org/10.1017/CBO9781107415324.004
Birahmani, N. A., & Lohar, S. A. (2019). Language Maintenance and Shift : Attitudes of Brohi People towards Sindhi and Brahui Languages. Language in India, 19(2), 327–335. http://www.languageinindia.com/feb2019/nisarlanguageattitudesbrahuipeople.pdf
Cummins, J. (2001). Bilingual Children 's Mother Tongue : Why Is It Important for Education ? Jim Cummins University of Toronto. Sprogforum, 7(19), 15–20. http://www.iteachilearn.com/cummins/mother.htm
David, M. K., Naji, I. M. H., & Kaur, S. (2003). Language maintenance or language shift among the Punjabi Sikh community in Malaysia? International Journal of the Sociology of Language, 161, 1–24. https://doi.org/10.1515/ijsl.2003.026
Desai, Z. (2012). A case for mother tongue education? Language of Instruction in Tanzania and South Africa (LOITASA), March, 45–68.
Government of Balochistan. (2014). The Balochistan Introducation of Mother Languages as Compulsory Additional Subject at Primary Level Act, 2014. https://rtepakistan.org/wp-content/uploads/2014/05/balochistan_mother_language_act.pdf
Harbord, J. (1992). The use of the mother tongue in the classroom. ELT Journa, 46(4), 350–355.
Harmer, J. (2007). The practice of English language teaching. Pearson Longman.
Jabeen, M., Chandio, A., & Qasim, Z. (2010). Language controversy: impacts on national politics and secession of East Pakistan. South Asian Studies, 25(1), 99.
Javed, F. (2017). A historical perspective of Pakistan's language in education policy. Language in India, 17(8), 45. http://search.ebscohost.com/login.aspx?direct=true&db=edsglr&AN=edsgcl.504724372&site=eds-live&scope=site&authtype=ip,shib&custid=s5243931
Khati, A. R. (2011). When and Why of Mother Tongue Use in English Classrooms. Journal of NELTA, 16(1–2), 42–51. https://doi.org/10.3126/nelta.v16i1-2.6128
Rahman, T. (2006). Language policy, multilingualism and language vitality in Pakistan. Lesser Known Languages of South Asia: Status and Policies, Case Studies and Applications of Information Technology, 73–104.
Rahman, T. (2019). Mother Tongue Education Policy in Pakistan. In The Routledge International Handbook of Language Education Policy in Asia (pp. 364–380). Routledge. https://doi.org/10.3126/nelta.v3i1-2.4813
UNESCO. (2005). Girls, educational equity and mother tongue. https://www.researchgate.net/publication/23777637_Girls_Educational_Equity_and_Mother_Tongue-based_Teaching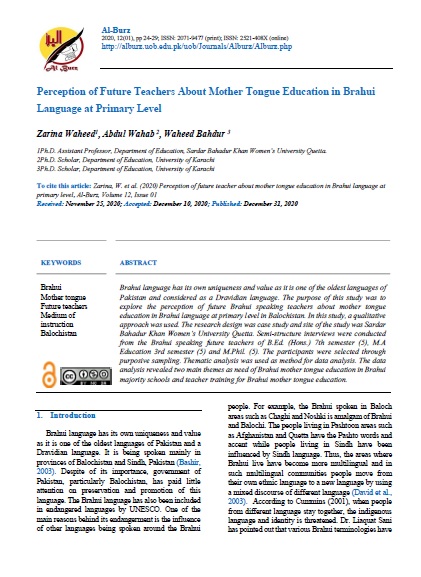 Downloads
How to Cite
Zarina Waheed, Abdul Wahab, & Waheed Bahadur. (2020). PERCEPTION OF FUTURE TEACHERS ABOUT MOTHER TONGUE EDUCATION IN BRAHUI LANGUAGE AT PRIMARY LEVEL. Al-Burz, 12(1), 24–29. Retrieved from http://journal.uob.edu.pk/journal/index.php/alburz/article/view/47
License
Alburz has licensed under a  CC Attribution-NonCommercial-ShareAlike 4.0