Reflection of Brahui Culture in Brahui Modern Prose
Keywords:
Key Words: Brahui, Culture, Balochistan, Literature, Prose
Abstract
According to a proverbial saying of Mattew Arnold, literature is the reflection of society. Following this idea it is true that the best reflection of a culture and society is found in the literature of that very community. Writers reflect culture in their writings because they can't live without being influenced by the environment in which they live. Environment has its influence upon writers and that is why a writer or poet directly or indirectly describes his environment and culture. As compare to poetry, culture is visibly seen in prose. Same is the case of the reflection of Brahui culture in its prose. We easily know about the main cultural tenets of Brahui people through their literature. Their life-style, customs, food, education, professions, religion etc. are found in the prose of Brahui Literature. Modern genres in Brahui Prose, like novel, short story, drama etc. are the main sources of Brahui Culture. This article attempts to analyse modern genres of prose like novel, drama, short story and so on in Brahui language to discover and point out main features of Brahui Culture.
Key Words: Brahui, Culture, Balochistan, Literature, Prose
References
Brahui, A. Rahman. (2004). Jadeed Nasri Adab (Brahui) in Study Guide M.Phil Pakistani Languages: Baluchi, Brahui Zaban-o-Adab, Islamabad, AIOU.
Brahui, Sosan. (2009). Urdu awr Brahui: Lisani wa Adabi Ishtirak, in Pakistani Zubanin Mushtarik Lisani wa Adabi Warsa, by Dr. Inam-ul-Haq Javed and Abdullah Jan Abid, Islamabad, AIOU.
Grierson, G.A. (n.d.). Linguistic Survey of Pakistan Vol. I Introductory (Being Vol I Part I of the Linguistic Survey of India), Lahore, Accurate Printers.
Murad, Afzal. (2009). Mukhtasar Tarikh Zaban-o-Adab Brahui, Islamabad, NLA.
Rizvi, Kashif. (2007). Pakistani Zubanin, Islamabad, Asif House.
Rooman, Anwar. (2006). Brahui awr Urdu ki Lisani wa saqafati rawabit, in Pakistan min Urdu (Vol. II) by Prof. Fateh Muhammad Malik and others, Islamabad, National Language Authority.
Sabir, G. Bakhash. (1995). (Translator), Aftab Taza by Gul Bangalzai, Islamabad, Pakistan Academy of Letters.
Sindhi, A. Majeed, (1992). Lisanyat-i-Pakistan, Islamabad, National Language Authority.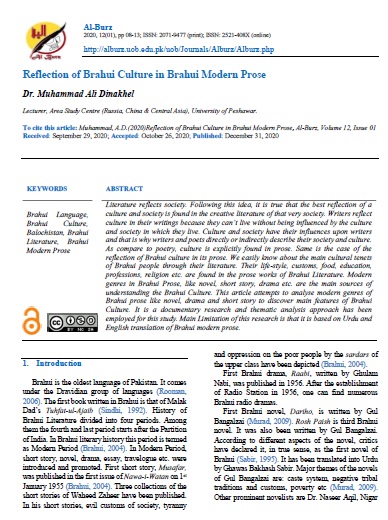 Downloads
How to Cite
Dinakhel, D. M. A. (2020). Reflection of Brahui Culture in Brahui Modern Prose . Al-Burz, 12(1), 8–13. Retrieved from http://journal.uob.edu.pk/journal/index.php/alburz/article/view/15
License
Alburz has licensed under a  CC Attribution-NonCommercial-ShareAlike 4.0