The Possible Role of USA in Balochitan Issue and its Social-cultural Implications(A Historical Perspective)
Keywords:
British Raj, Annexation, Strategic Location, Diplomacy, arbitration, bordering state, socio- cultural.
Abstract
The concept of foreign policy is directly related to interactions one state with international community. Whereas the role of an individual (political leader) always remained controversial. In this regard statements have come from different people. Some analysts argue that the foreign policy framed on any personal capacity by an individual has minor importance in the determination process of foreign policy. Which others believe that is the major important thing. Moreover, the aim of researcher in this paper is to describe thePosition of United States of America in Pakistan in general and Balochistan specifically to analyze the hurdles in ways of cultural and political development of the focused area. Furthermore, the researcher used systematic methodology of comparative and qualitative analysis, while approaching both primary and secondary data. The findings in this research work directly approach the foreign policy of Pakistan with special reference to Pakistan's relations with United state of America and its socio-cultural impicsations on Balochistan.
References
Alok, B. (2006). Balochistan: Continuing Violence and Its Imlications. Strategic Analysis 30(1) , 46-63.
Benjamin, M. (2005). When and how Regions become Peacful :Potential Theortical Pathway to Peace. International studies Review 7 (2) , 229-267.
Cheema, G. (2010). Intra-State Conflicts and Development Strategies:The Baloch Insurgencyin Pakistan. Pacific Basin Research Center,Soka Univeristy of America;working paper series, pp. 1-40.
Findley G Michael, T. K. (2006). Rethinking Third Party Interventions Into civil War:AnActor Centric Approach. The Journal of Politics 68(4) , 828-837.
International Crisis Group. (2007, October 22). Pakistan:The forgotten Conflict InBalochistan. Asia Briefing No 69 , pp. 1-15.
Johnson.H Thomas and Mason M, C. (2008). No sign untill the burst of Fire Understanding the Pakistan-Afghansitan Frontier. International security 32 (4 ) , 41-77.
Marieke, K. (2002). Great Power Mediation:Using Leverage to Make Peace? In J. (.Bercovitch, The Range of Mediation Experience (pp. 127-140). Studies in internationalMediation,London:Palgrave.
Suleri Abid, S. B. (2010). Natural Resources:Blessing or Curse. Sustainable Development Policy Insitute: Working Paper Series 115, pp. 1-20
Schneckner, U. (2008). Third Party Involvement in Self-dtermination Conflicts. In W. M.(editors), Settling Self-Determination Disputes:Complex Power -Sharing in Theory andPractice (pp. 467-499). Netherlands: Brill Netherlands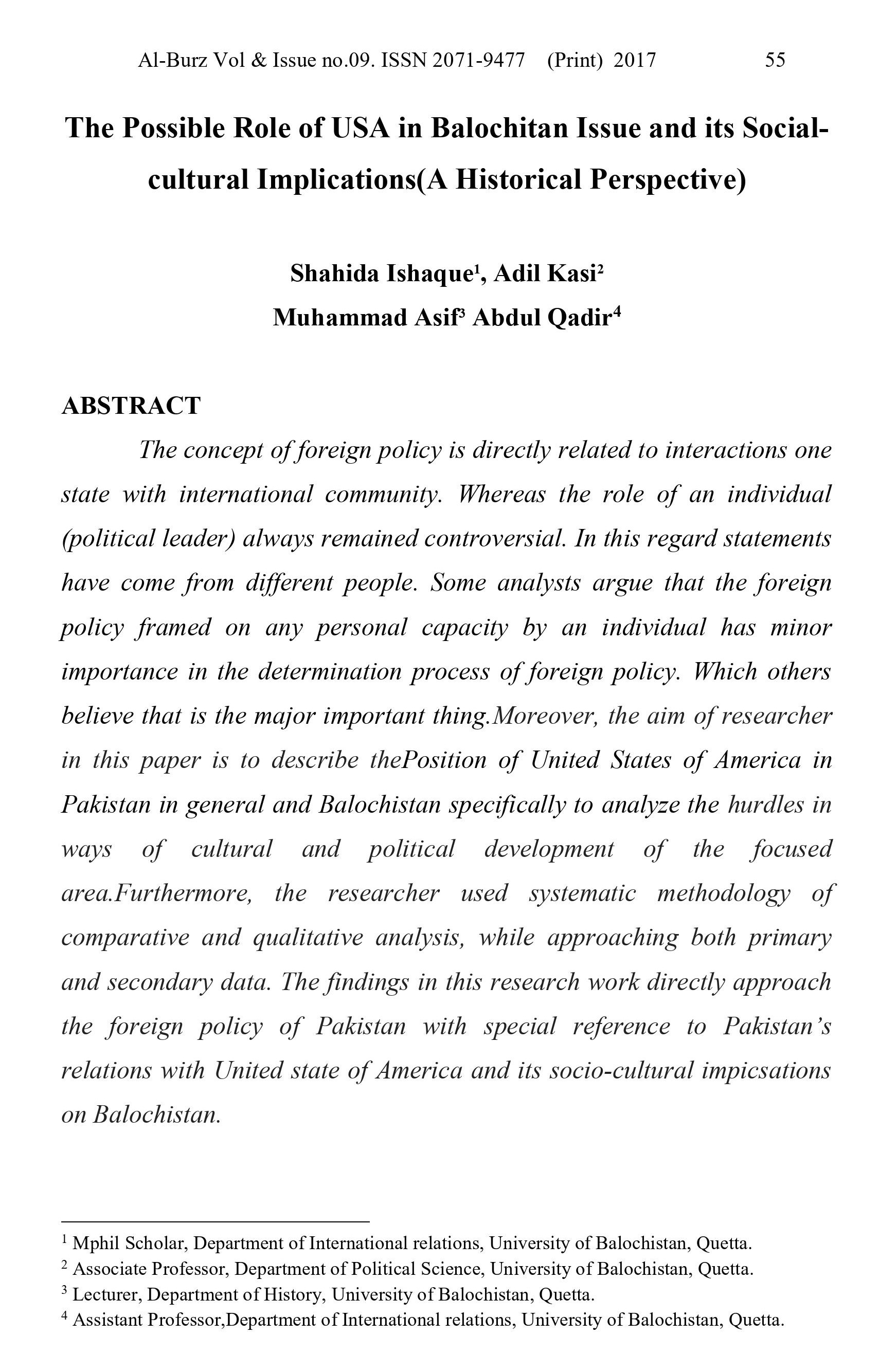 Downloads
How to Cite
Ishaque, S. ., Kasi, D. Z., Muhammad Asif, & Abdul Qadir. (2017). The Possible Role of USA in Balochitan Issue and its Social-cultural Implications(A Historical Perspective). Al-Burz, 9(1), 55–64. https://doi.org/10.54781/abz.v9i1.103
License
Copyright (c) 2017 Authors who publish with Al-Burz journal agree to the following terms: 1. Authors retain copyright and grant the journal right of first publication with the work simultaneously licensed under a Creative Commons Attribution (CC-BY) License that allows others to share the work with an acknowledgement of the work's authorship and initial publication in this journal. 2. Authors are able to enter into separate, additional contractual arrangements for the nonexclusive distribution of the journal's published version of the work (e.g., post it to an institutional repository or publish it in a book), with an acknowledgement of its initial publication in this journal.
This work is licensed under a Creative Commons Attribution-NonCommercial-ShareAlike 4.0 International License.
Alburz has licensed under a  CC Attribution-NonCommercial-ShareAlike 4.0